The Roka ceremony which was held on the 18th of August, 2018 in Priyanka Chopra's residence in Mumbai was attended by various close celebrity friends and relatives. The two started dating and this went on for a year. Until on Priyanka's birthday when the couple went to London for a vacation and Nick asked for her hand in marriage.
After this, the duo was often spotted in various parts of the world where they were either on a vacation or for some work. The duo also started to introduce their partners to their respective family members. This is considered as a sweet gesture as both the celebrities were keen on knowing ones to be family members.
Nick also came down to India to spend some quality time with Priyanka's close family members and also with his lady love. They were often spotted by the media where the couple was seen spending gala time with one another. Priyanka Chopra was also invited to attend the wedding of Nick's cousin where he officially introduced her to his family as his girlfriend.
How the guests decked up themselves in Miss World's Roka ceremony?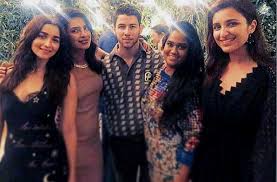 Priyanka's mother in law Denise Miller Jonas dressed herself up in a traditional Indian garment in order to attend the Roka ceremony. Mother in law appeared to be just gorgeous in a green salwar kameez paired with some Indian accessories. On the other hand, father in law Paul Kevin Jonas wore a white kurta and pyjama which made him appear handsome and so ethnic.
Madhu Chopra, Priyanka's mother appeared young and vibrant in a red sari with matching jewellery to pair with it. Parineeti Chopra who happens to be Priyanka's cousin sister and also a Bollywood actress appeared awesome in a yellow kurta just like her elder sister. Parineeti made it sure to wear some matching accessories.
Priyanka Borkar who happens to be a celebrity hairstylist was also seen clicking pictures with the wonderful couple after the Roka ceremony. The hair stylist happens to wear a dark yellow Anarkali salwar kameez without a dupatta. Her hair has three shades of colour which includes pink, white and black. Mushtaq Sheikh was spotted in a red coloured kurta and a white pyjama.
After the ceremony snaps after snaps continued and the couple appeared to be too sweet to be separated.