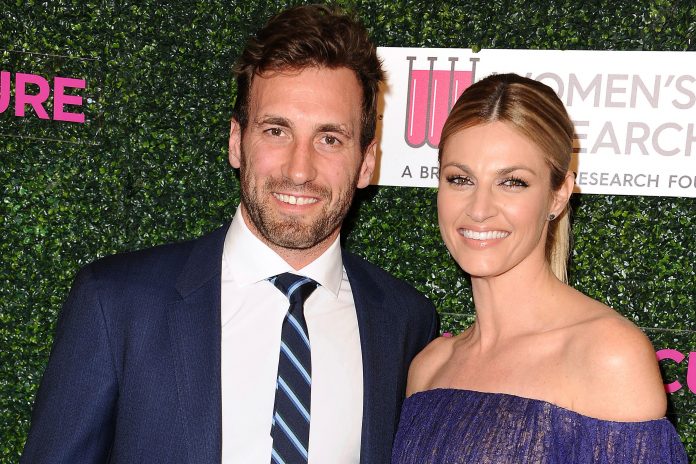 Former NHL player Jarret Stoll and sportscaster Erin Andrews have tied the knot. According to Andrews's publicists, the 39-year old Fox Sports reporter and co-hot of ''Dancing with the Stars'' married Stoll on Saturday which also marked his 35th birthday.
The news of the wedding was first shared by the People Magazine. The magazine reported that the wedding took place at the sunset in Montana before small group of family and invited guests.  Andrews' gown was designed by Carolina Herrera. The two who have been dating since 2012 got engaged last December at Disneyland.
During an interview with ABC's "Good Morning America" in January Andrews said they had gone there for Christmas cerebration as well as witnessing the Christmas decorations which finally ended in a lovely dinner.
The wedding comes after a rocky and year for Andrews.
She was diagnosed with cervical cancer in September 2016 just a few months after winning a stalking court battle.  She settled with two companies that were found to blame for the stalker who booked in a room next to hers and later posted nude videos of her on the internet.  Stoll has a 13-year career playing in the NHL during which she played for Los Angeles, Edmonton, the New York Rangers and Minnesota.
In other news, Prince Harry has revealed that he once wanted to move out of the British royal family. In an interview that was published in the Mail, the prince revealed that all the time he spent in the army was "the best escape I've ever had'' saying that at one point, he considered giving up on his title.
Prince Harry, who is fifth in the line of succession, said: ''I felt I wanted out, but then decided to stay in and work out a role for myself.''
His comments come after an interview that was published in the Newsweek in which he is quoted to have said he doubted if anyone in the royal family wished to be king or queen.  He however said the royal family will carry out its duties at all time as required.